KCTG / 140 E. Roosevelt Ave. / PO Box 783 / Dover, DE 19903 / 302-674-3568 / email: kctg@kctg.org


at the Patchwork Playhouse

Providing Quality Community Theatre

to Central Delaware Since 1953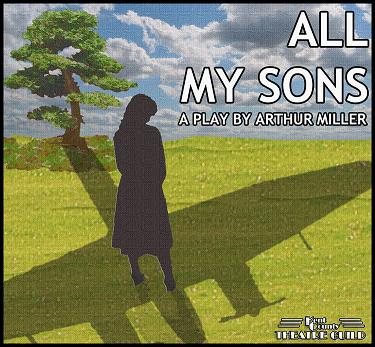 The 2012-2013 Season Finale

Kent County Theatre Guild

presents Arthur Miller's classic drama

All My Sons

directed by John Muller

2013 APR 12-13, 19-20, 26-27 at 8:00p

Sunday Matinee APR 21 at 2:00p

The Patchwork Playhouse

140 E Roosevelt Ave, Dover DE

ABOUT THE SHOW...

The last show of the KCTG Season 59, Arthur Miller's award-winning American drama All My Sons was written in 1947 and it ran on Broadway for 11 months, a total of 328 performances. The play won Tony Awards for both Best Author and Best Direction of a Play.

Set in the aftermath of World War II in suburban America, All My Sons explores one family's pursuit of the American Dream while overcoming the grief of a lost son and brother, and guilt over events that occurred during the war. This play will take audiences through twists and turns as a family tries to cope with the decisions they have made, while trying to maintain their American Dream.

A popular American classic, All My Sons is an excellent way to keep you on the edge of your seat as we close out the Kent County Theater Guild's 59th season.

Tickets: $18 / $16*

*Senior Citizen, Active Military, Full-Time Student



THE CAST

Joe Keller...

Steve Caporiccio
Kate Keller...

Patti Gatto
Chris Keller...

Brandon Twilley
Ann Deever...

Samantha Simpson
George Deever...

Will McVay
Dr. Jim Bayliss...

Dennis McGeady
Sue Bayliss...

Terri Thompson
Frank Lubey...

Mike Polo
Lydia Lubey...

Joanne Moran
Bert...

Dylan Moran
THE PRODUCTION TEAM

Consulting Director...

Paul Janiga
Stage Manager...

Nancy Muller
Producer...

Judy Saladino
Lighting Technician...

Claude Warnick
Set Design/Construction...

Jonathan Wickert