140 E. Roosevelt Ave. / PO Box 783 / Dover, DE 19903 / 302-674-3568 / email: kctg@kctg.org


at the Patchwork Playhouse

Providing Quality Community Theatre

to Central Delaware Since 1953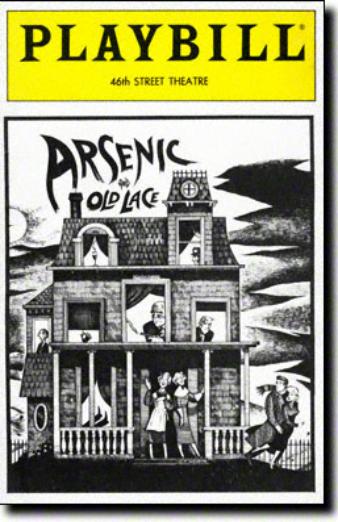 Our 61st Season begins...

Kent County Theatre Guild presents

Arsenic and Old Lace

written by Joseph Kesselring

directed by Nancy Muller

Fridays SEP 26, OCT 3 & 10 at 8:00p

Saturdays SEP 27, OCT 4 & 11 at 8:00p

Sunday Matinee OCT 5 at 2:00p

The Patchwork Playhouse

140 E. Roosevelt Ave., Dover DE

ABOUT THE SHOW

In 1941, New Yorkers were looking for some entertainment to take their minds off of the war in Europe and the growing fear that America would be pulled into it. On January 10, Broadway gave them exactly what they were looking for in the form of a hilarious new play by Joseph Kesselring, Arsenic and Old Lace.

The play became an immediate critical and popular success, running for 1,444 performances. It also became a hit in England in 1942 as theatergoers who were suffering through London post-blitz lined up for tickets. In 1944, Hollywood produced a film version staring Cary Grant that became a huge box office success.

The play, a clever combination of the farcical and the macabre, centers on two elderly sisters who are famous in their Brooklyn neighborhood for their numerous acts of charity. Unfortunately, however, their charity includes poisoning lonely old men who come to their home looking for lodging. The two women are assisted in their crimes by their mentally challenged nephew who believes he is Teddy Roosevelt and who frequently blasts a bugle and yells "charge" as he bounds up the stairs.

Matters get complicated when a second nephew, a theater critic, discovers the murders and a third nephew appears after having just escaped from a mental institution. In his adroit mixture of comedy and mayhem, Kesselring satirizes the charitable impulse as he pokes fun at the conventions of the theater.

Source- http://library.uvm.edu/~pmardeus/theat/arsenicandoldlaceplot.html

THE CAST

Abby Brewster...  Linda Hyler

Rev. Harper... Paul Janiga

Teddy Brewster...  Will McVay

Officer Brophy... Edy Makariw

Officer Klein...  Briana Hyler

Martha Brewster...  Linda Smith

Elaine Harper...  Aubrey Edwards

Mortimer Brewster...  Brandon Twilley

Mr. Gibbs...  Andrew Sanchez

Jonathan Brewster... Sean Finley

Dr. Einstein...  Steve Caporiccio

Officer O'Hara...  Kevin Smith

Lt. Rooney...  Art Paul

Mr. Witherspoon... David Wharff

THE PRODUCTION TEAM

Director...  Nancy Muller

Consulting Director...  Patti Gatto

Stage Manager...  Brianna Hyler