140 E. Roosevelt Ave. / PO Box 783 / Dover, DE 19903 / 302-674-3568 / email: kctg@kctg.org


at the Patchwork Playhouse

Providing Quality Community Theatre

to Central Delaware Since 1953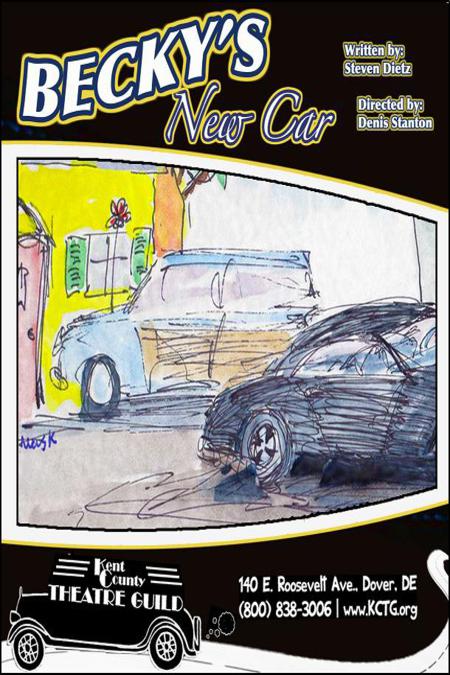 The 2012-2013 Season Continues!

Kent County Theatre Guild

presents

Becky's New Car

written by Steven Dietz

directed by Denis Stanton

FEB 1-2, 8-9, 15-16 8:00p

Sunday Matinee FEB 10 2:00p

The Patchwork Playhouse

140 E Roosevelt Ave, Dover DE

Becky's New Car is a thoroughly original comedy with serious overtones, a devious and also delightful romp down the road not taken.

Becky Foster is caught in middle age, with no prospects of change on the horizon. Then one night a socially inept millionaire stumbles into her job and Becky is offered nothing short of a new life and the audience is offered a chance to ride shotgun in a way that most plays wouldn't dare!

Production Staff

Director...

Denis Stanton
Assistant Director...

David Wharff
Producer...

Kristen Boehmer
Lights/Sound...

Claude Warnick
and
Adam Sadkowski
Cover/Media Artwork...

Jeff Mask
Set Design...

John Morris
and
Denis Stanton

The Cast

Becky...   Carol Torrey

Joe...   Larry Mola

Chris...   Bruce Klinger

Walter...   David Bralley

Kensington...   Rebekah Kovitz

Steve...   Jeff Mask

Ginger...   Patti Gatto

Tickets: $18 / $16*

*Senior Citizen, Active Military, Full-Time Student