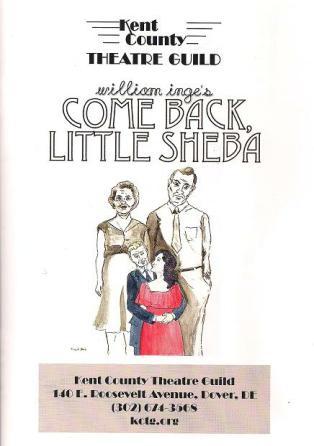 Kent County Theatre Guild

presents William Inge's

Come Back, Little Sheba

directed by Denis Stanton

March 2-3, 9-10, 16-17 at 8:00p

Sunday Matinee March 11 at 2:00p

The Patchwork Playhouse

140 E Roosevelt Ave, Dover DE

Use your credit card now

and get your tickets HERE
The Story...

William Inge burst upon the theatrical scene with this story of marital frustration which erupts in violence. Years ago Doc and Lola had an indiscreet affair, she became pregnant and he was compelled to marry her.  Doc gave up his medical studies, forfeited his future and settled down to a life of quiet desperation with the simple, homebody Lola. For her part, Lola, now childless, has remained Doc's steadfast if slatternly wife.


Now a chiropractor and recovering alcoholic, Doc's sobriety is tested when Marie, a young college student becomes their boarder bringing new life and long-dormant hostilities to the surface of Doc and Lola's troubled marriage.
On Broadway and in Film...


The original Broadway production of production of Inge's
Come Back, Little Sheba
opened at the Booth Theater in New York on February 15, 1950 and ran for 190 performances.
Shirley Booth
won the 1950 Tony Award for Best Actress in a Drama for portraying Lola on stage. She then recreated the role in the 1952 film version and was awarded the Oscar for Best Actress for her portrayal.

Sidney Blackmer
won the 1950 Tony Award for Best Actor in a Drama for
Come Back, Little Sheba
for his portrayal of Doc. Hollywood's
Burt Lancaster
played the highly sought-after role in the 1952 film.
Tickets: Adults $12

Seniors/Military/Students $10

The Cast

in alphabetical order

Postman..........David Bralley

Messenger..........Mike Buck

Elmo..........George Christensen

Turk..........Steven Dow

Lola..........Melissa Janson

Ed Anderson..........Steve Kotrch

Marie..........Jennifer Marshall

Doc..........Jeff Mask

Milkman..........Larry Mola

Bruce..........Steven Pate

Mrs. Coffman..........Carol Torrey

Director: Denis Stanton

Assistant Director: Kristen Boehmer

Producer: Joanne Moran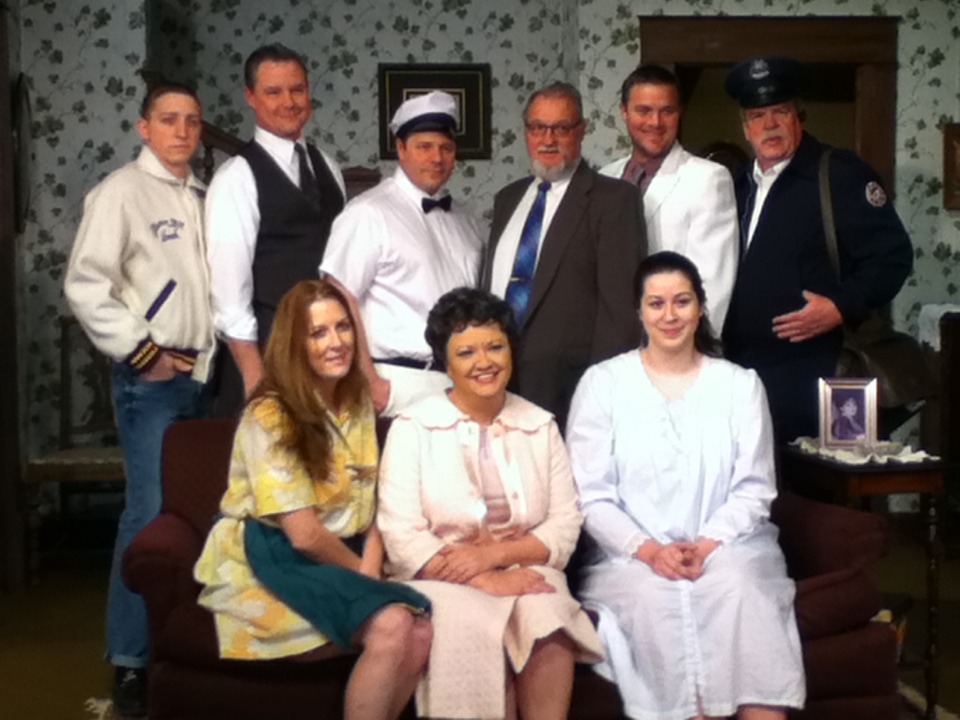 Sheba cast: back, l. to r.: Steven Dow, Jeff Mask, Larry Mola, Steve Kotrch, Steven Pate, David Bralley. Front, l. to r.: Carol Torrey, Melissa Janson, Jennifer Marshall. Not pictured: Mike Buck, George Christensen.

140 E. Roosevelt Ave. / PO Box 783 / Dover, DE 19903 / 302-674-3568 / email: kctg@kctg.org

or call our box office at 302-674-3568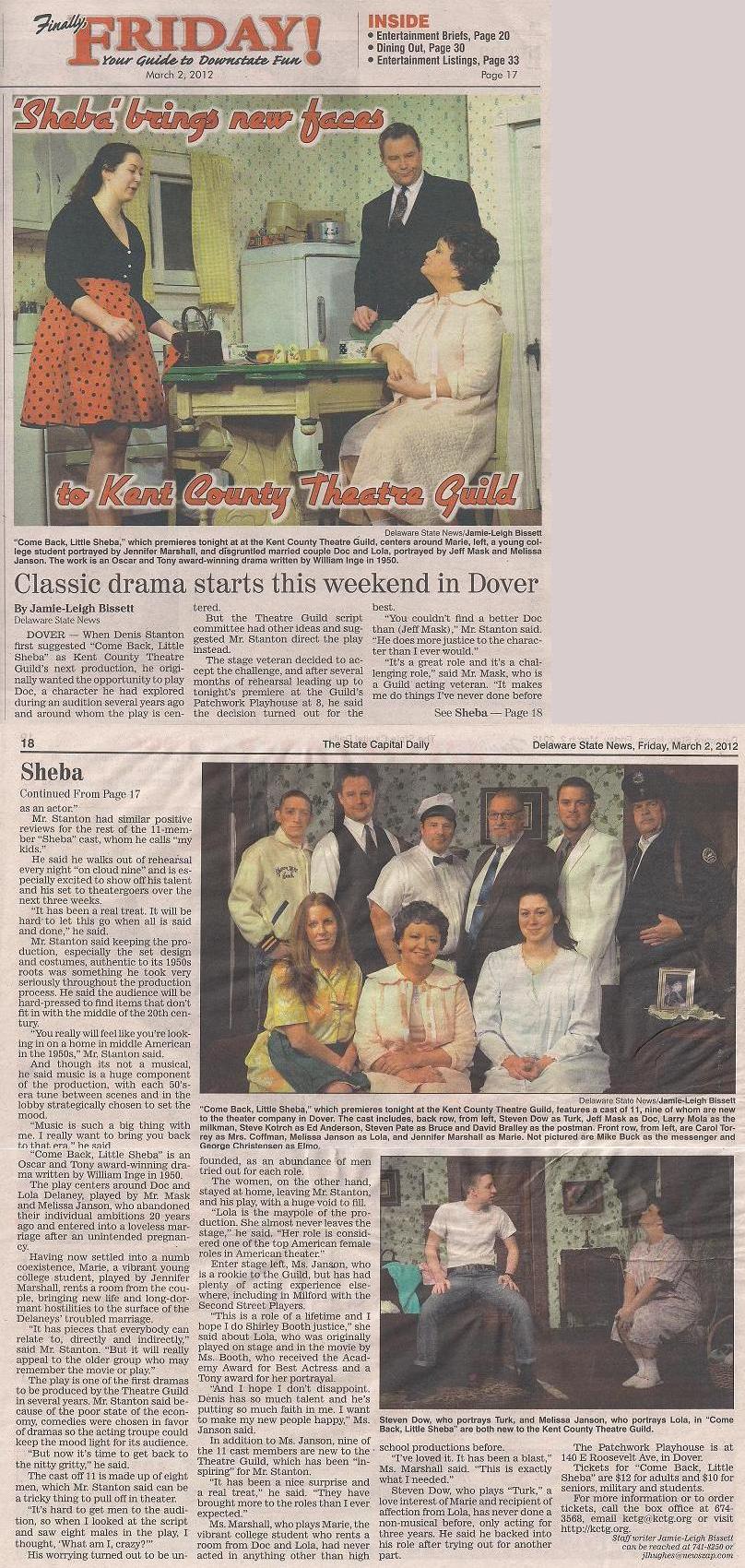 at the Patchwork Playhouse

Providing Quality Community Theatre

to Central Delaware Since 1953