140 E. Roosevelt Ave. / PO Box 783 / Dover, DE 19903 / 302-674-3568 / email: kctg@kctg.org


at the Patchwork Playhouse

Providing Quality Community Theatre

to Central Delaware Since 1953

ABOUT THE SHOW...

Under the direction of Steve Caporiccio, Robin Hawdon's adaptation of Marc Camoletti's DONT DRESS FOR DINNER is the story of Bernard who is planning a romantic weekend with his chic Parisian mistress, Suzy, in his converted French farmhouse. He has planned for his wife, Jacqueline, to be away visiting her mother.


Tickets are General Admission: $20.00

62+, Student, Military: $18.00

KCTG Member: $17.00

Children 12 and Under: $10.00

(A small convenience fee will be added for credit card processing.)

Kent County Theatre Guild

presents a play of laughs and lunacy...

Don't Dress for Dinner

a comedy by Marc Camoletti

adapted by Robin Hawdon

directed by Steve Caporiccio

Fridays SEP 14 & 21 at 8:00p

Saturdays SEP 15 & 22 at 8:00p

Sunday Matinee SEP 16 at 2:00p

THE CAST

BERNARD...   Jeff Mask

JACQUELINE (Bernard's wife)...   Terri Thompson

ROBERT (Bernard's best friend and Jacqueline's lover)...   Will McVay

SUZETTE (The cook)...   Laini Bernard

SUZANNE (Bernard's mistress)...   Amelia Davis

GEORGE (Suzette's husband)...   Jeff Bellon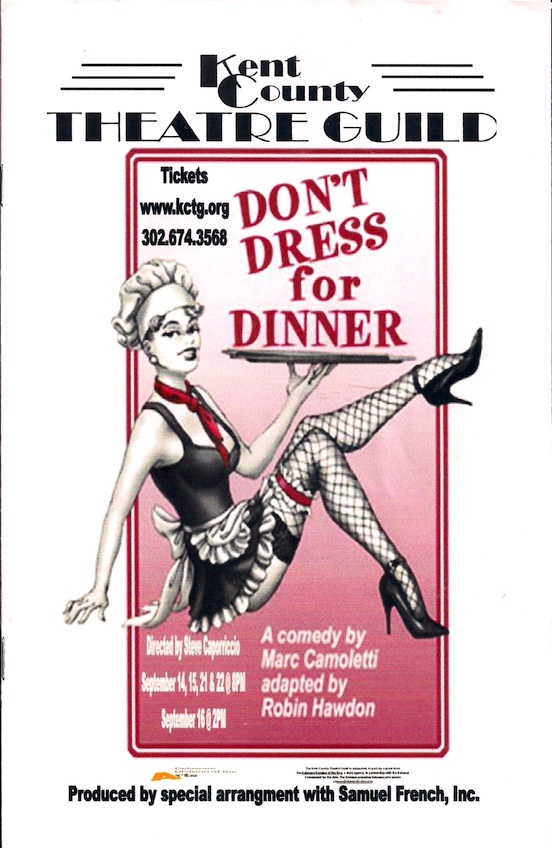 Bernard has arranged for a cordon bleu cook to prepare gourmet delights, and has invited his best friend, Robert, along as well to provide the alibi. It's foolproof! What could possibly go wrong?!

Well...suppose Robert turns up not realizing quite why he has been invited. Suppose Robert and Jacqueline are secret lovers, and consequently determined that Jacqueline will NOT leave for the weekend. Suppose the cook has to pretend to be the mistress and the mistress is unable to cook. Suppose everyones alibi gets confused with everyone elses.

An evening of hilarious confusion ensues as Bernard and Robert improvise at breakneck speed.

DONT DRESS FOR DINNER is presented by special arrangement with SAMUEL FRENCH, INC.