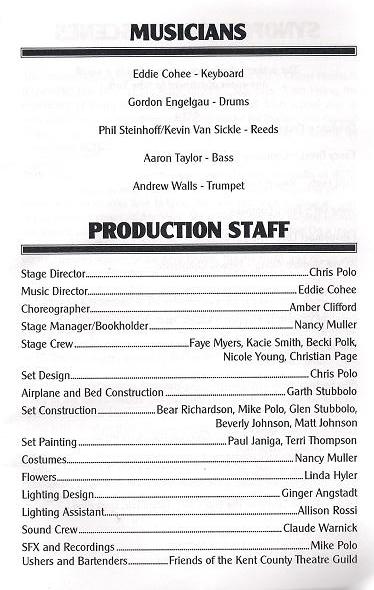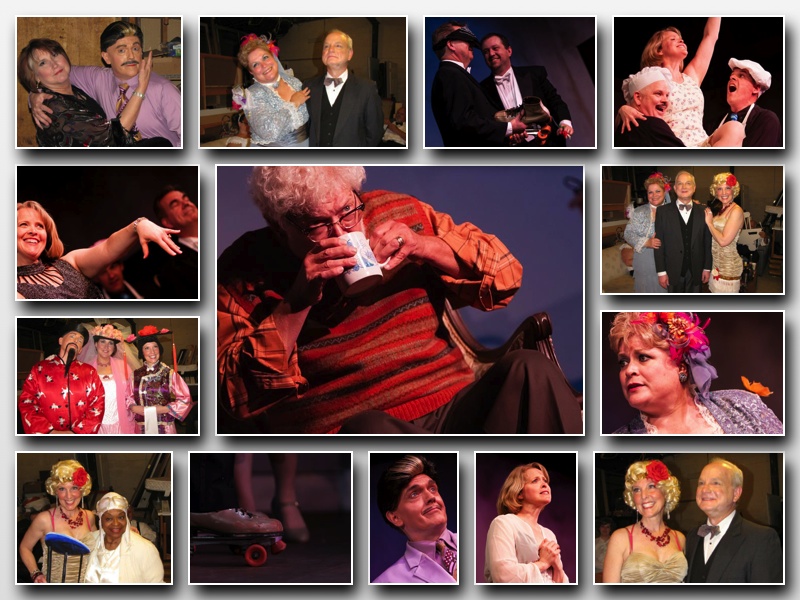 140 E. Roosevelt Ave. / PO Box 783 / Dover, DE 19903 / 302-674-3568 / email: kctg@kctg.org


at the Patchwork Playhouse

Providing Quality Community Theatre

to Central Delaware Since 1953

Our 60th Season Opener!

Kent County Theatre Guild

brings back the big Broadway musical...

The Drowsy

Chaperone

book by Bob Martin & Don McKellar

music and lyrics by Lisa Lambert & Greg Morrison

Chris PoloEddie Cohee

stage director    

   musical director
JUNE 14-15, 21-22, 28-29 8:00p

Sunday Matinee JUNE 23 2:00p

General Admission Ticket: $22

(There are no reserved seats for this show.)

The Patchwork Playhouse

140 E Roosevelt Ave, Dover DE

About the Show...

  It's been a number of years since Dover has seen a traditional large-scale musical at a local community theater, but director Chris Polo and music director Eddie Cohee aim to change that with their June production of The Drowsy Chaperone at the Kent County Theatre Guild.

  The Drowsy Chaperone, by Lisa Lambert, Don McKellar, Bob Martin and Greg Morrison, is a madcap show-within-a-show that parodies American musical comedies of the 1920s. The Broadway production starred musical sensation (and TV's Bunheads lead) Sutton Foster and took home five Tony Awards in 2006, including Best Book of a Musical and Best Original Score.

  The show revolves around one musical theatre fan's obsession with a fictional show from the 1920s: 'The Drowsy Chaperone'. As he listens to the recording, the characters come to life in his apartment. This is the story of a Broadway actress, Janet Van de Graaf, who wants to marry the debonair Robert Martin and give up her stage career. Janet's producer, Mr. Feldzieg, must stop the wedding because if she quits show business, he'll lose his job! Further, gangsters threaten Mr. Feldzieg since if Janet quits, they lose their investment.

  Although Polo has never taken on a musical, she's directed regular-season shows at the Guild since 1992. She also has experience working on a different type of musical production: she, husband Mike Polo, and close friend Bruce Leister wrote, produced and appeared in seven Delaware Unleashed musical revues for the Guild.

  Polo says that doing a big, traditional musical at the Guild is something she's dreamed about for years. "And a true bonus is having Eddie Cohee as musical director," she says. "I've worked with him on our Delaware Unleashed productions and other musical revues at the Guild, as well as on regular-season shows, and he's an incredible asset to any production. So I know this is going to be a fantastic experience and a terrific show."


The Cast

Man in Chair...David Wharff

Mrs. Tottendale...Kane Mowrey

Underling...Paul Janiga

Robert Martin...Bob Walls

George...John Muller

Feldzieg...Steve Capporiccio

Kitty...Kathy DeLong

Gangster #1...Glen Stubbolo

Gangster #2...Dave DeLong

Aldolpho...Denis Stanton

Janet Van De Graaff...Diane Walls

The Drowsy Chaperone...Patti Gatto

Trix the Aviatrix...Pat Randolph

Superintendent...Bear Richardson

Ensemble

Linda HylerBear Richardson

Cheryl Fischer

Deanna Hess
Beverly Johnson

Matt Johnson
The Production Staff

Directors...

Chris Polo (staging), Eddie Cohee (music)

Bookholder, Stage Manager, Costumer...

Nancy Muller
Lights...

Ginger Angstadt