140 E. Roosevelt Ave. / PO Box 783 / Dover, DE 19903 / 302-674-3568 / email: kctg@kctg.org


at the Patchwork Playhouse

Providing Quality Community Theatre

to Central Delaware Since 1953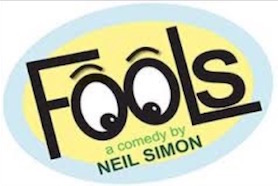 Our 2017 Season begins...

Kent County Theatre Guild presents

Fools

a comedy by Neil Simon

directed by Nancy Muller

Fridays FEB 10 & 17 at 8:00p

Saturdays FEB 11 & 18 at 8:00p

Sundays FEB 12 & 19 at 2:00p

The Patchwork Playhouse

140 E. Roosevelt Ave., Dover DE

ABOUT THE SHOW...

Leon Tolchinsky is ecstatic. He's landed a terrific teaching job in an idyllic Russian hamlet. When he arrives he finds people sweeping dust from the stoops back into their houses and people milking upside down to get more cream.

The town has been cursed with Chronic Stupidity for 200 years and Leon's job is to break the curse. No one tells him that if he stays over 24 hours and fails to break the curse, he too becomes Stupid. But, he has fallen in love with a girl so Stupid that she has only recently learned how to sit down.

Fools is Neil Simon at his most historical...er...hysterical!

THE CAST

Leon Tolchinsky...   Will McVay

Snetsky...   Amy Bill

Magistrate...   Patrice Hartung

Slovitch...   Laini Bernard

Miskhin...   Bob Barto

Yenchna...   Alice Santo

Dr. Zubritsky...   John Muller

Lenya Zubritsky...   Linda Smith

Sophia Zubritsky...   Elyse Mendez

Gregor Yousekevitch...   Jeff Bellon

THE PRODUCTION TEAM

Director...  Nancy Muller

Stage Manager...  Penny Smith

Lighting...   Claude Warnick

Sound...   Kevin Smith