140 E. Roosevelt Ave. / PO Box 783 / Dover, DE 19903 / 302-674-3568 / email: kctg@kctg.org


at the Patchwork Playhouse

Providing Quality Community Theatre

to Central Delaware Since 1953

Attention all murder mystery buffs and Pink Panther movie fans! 

MURDERED BY DEATH is Peter Gordon's spoof of every Agatha Christie murder-mystery written, filmed, or brought to the stage.

The scene is set in an English country manor house where a murder takes place. The police are called and the bumbling detective arrives with a trusty constable at his side. The inspector trips over the clues and points fingers in every direction while never quite seeing the obvious and nailing the culprit.

The other characters are those you'd expect in an Agatha Christie mystery, including an elderly busybody who seems to attract murder wherever she goes!

Kent County Theatre Guild

presents Peter Gordon's Hilarious Murder-Mystery

Murdered to Death

directed by Paul Janiga

2012 NOV 2-3, 9-10, 16-17 at 8:00p

Sunday Matinee NOV 11 at 2:00p

The Patchwork Playhouse

140 E Roosevelt Ave, Dover DE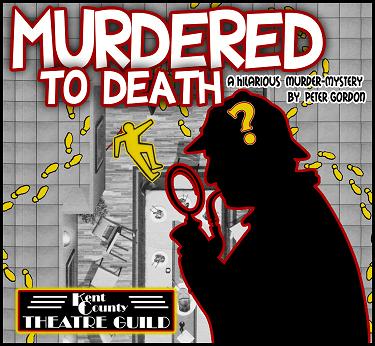 THE CAST

Mildred, the lady of the manor...  Maureen Levine

Dorothy, Mildred's niece...  Melinda Daniel

Bunting, the butler...  Arthur D. Paul

Colonel Charles Craddock, an old friend of Mildred's...  Steve Caporiccio

Margaret Craddock, his wife...  Becki Polk

Pierre Marceau, an art dealer...  Gary D. Tucker II

Elizabeth Hartley-Trumpington, Pierre's companion...  Debra Passwaters

Joan Maple...  Patricia M. Randolph

Inspector Pratt...  Will McVay

Constable Thompkins...  Robbie Butler

THE PRODUCTION STAFF

Director...  Paul Janiga

Assistant Director...  Steven Dow

Stage Manager/Bookholder...  Kevin Smith

Costumes...  Nancy Muller

Stage Crew...   Claude Warnick