140 E. Roosevelt Ave. / PO Box 783 / Dover, DE 19903 / 302-674-3568 / email: kctg@kctg.org


at the Patchwork Playhouse

Providing Quality Community Theatre

to Central Delaware Since 1953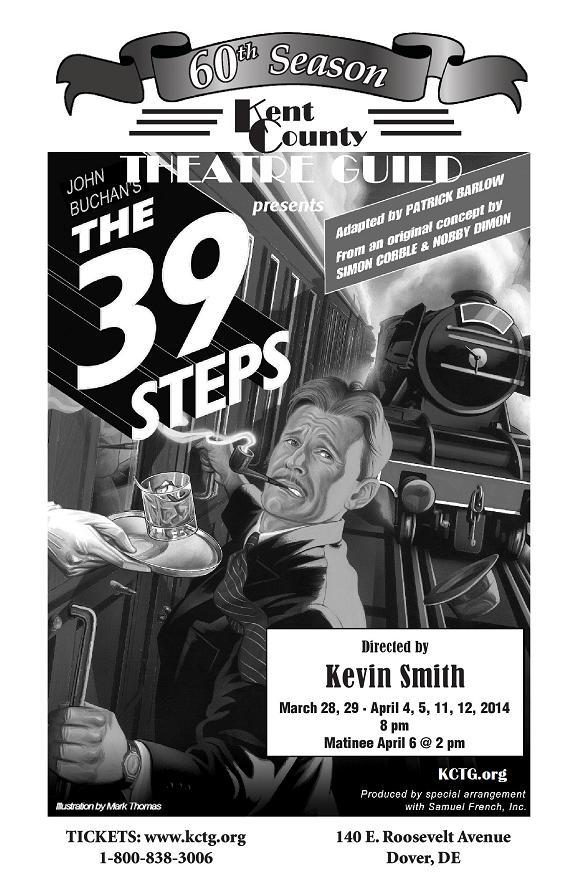 Our 60th Anniversary Season Celebration!

Kent County Theatre Guild presents

The 39 Steps

adapted from the novel by John Buchan

and the classic film directed by Alfred Hitchcock

written by Patrick Barlow

directed by Kevin Smith

Fridays MAR 28, APR 4 & 11 at 8:00p

Saturdays MAR 29, APR 5 & 12 at 8:00p

Sunday Matinee APR 6 at 2:00p

The Patchwork Playhouse

140 E. Roosevelt Ave., Dover DE

ABOUT THE SHOW

Mix a Hitchcock masterpiece with a juicy spy novel, add a dash of Monty Python and you have The 39 Steps, a fast-paced whodunit for anyone who loves the magic of theatre! This 2-time Tony® and Drama Desk Award-winning treat is packed with nonstop laughs, over 150 zany characters (played by a ridiculously talented cast of 4), an on-stage plane crash, handcuffs, missing fingers and some good old-fashioned romance!

In The 39 Steps, a man with a boring life meets a woman with a thick accent who says she's a spy. When he takes her home, she is murdered. Soon, a mysterious organization called "The 39 Steps" is hot on the man's trail in a nationwide manhunt that climaxes in a death-defying finale!

A riotous blend of virtuoso performances and wildly inventive stagecraft, The 39 Steps amounts to an unforgettable evening of pure pleasure!

Winner! 2 Tony® and Drama Desk Awards, 2008

Winner! Best New Comedy, Laurence Olivier Award, 2007

The 39 Steps played its 500th performance on Broadway, May 19th, 2009.



Brown Paper Tickets Ticket Widget Loading...

Click Here to visit the Brown Paper Tickets event page.
THE CAST

Clown 1...

Dan Guidice
Clown 2...Anna Keane

Annabella/Pamela/Margaret...

Karen Fitzpatrick

Richard Hannay...John Muller

THE PRODUCTION TEAM

Director...Kevin Smith

Asst. Director...Paul Janiga

Producer...Nancy Muller

Stage Manager...Becki Polk

Lights...Claude Warnick

- - - - -

"A wonderful triumph of theatre!"

-BBC Radio

"THEATER AT ITS FINEST... Absurdly enjoyable! This gleefully theatrical riff on Hitchcock's film is fast and frothy, performed by a cast of four that seems like a cast of thousands."

– Ben Brantley, The New York Times

"The most entertaining show on Broadway!" –Liz Smith, The New York Post

"INGENIOUS! A DIZZY DELIGHT!"

–Joe Dziemianowicz, Daily News

"RIOTOUS & MARVELOUS!"

–Clive Barnes, The New York Post

"Whirlwind funny business!"

–Michael Sommers, The Star-Ledger

"A giddy display of theatrical invention!" –David Rooney, Variety