140 E. Roosevelt Ave. / PO Box 783 / Dover, DE 19903 / 302-674-3568 / email: kctg@kctg.org


at the Patchwork Playhouse

Providing Quality Community Theatre

to Central Delaware Since 1953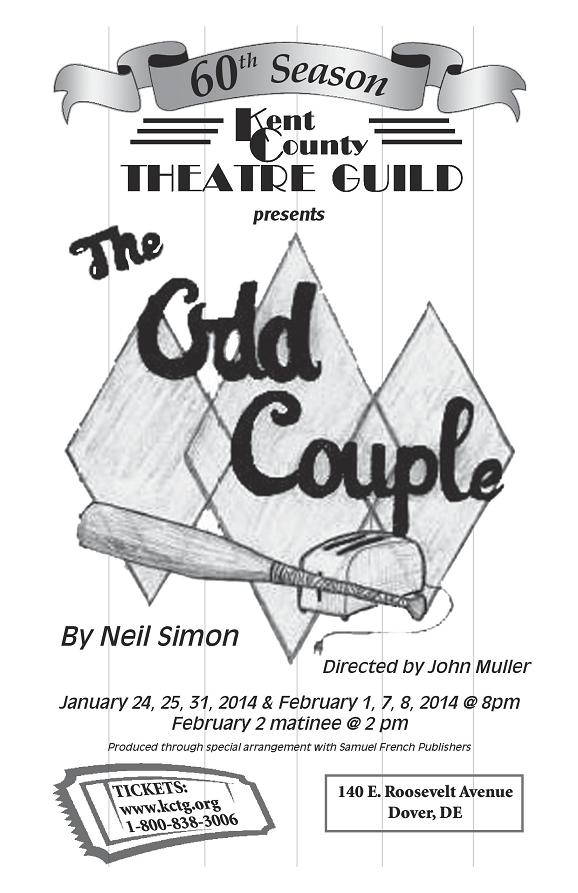 Our 60th Anniversary Season Celebration!

Kent County Theatre Guild presents

Neil Simon's

The Odd Couple

directed by John Muller

Fridays JAN 24, 31 & FEB 7 at 8:00p

Saturdays JAN 25, FEB 1 & 8 at 8:00p

Sunday Matinee FEB 2 at 2:00p

The Patchwork Playhouse

140 E. Roosevelt Ave., Dover DE

ABOUT THE SHOW

This classic comedy opens as a group of the guys assembled for cards in the apartment of divorced Oscar Madison. And if the mess is any indication, it's no wonder that his wife left him. Late to arrive is Felix Unger who has just been separated from his wife. Fastidious, depressed and none too tense, Felix seems suicidal, but as the action unfolds Oscar becomes the one with murder on his mind when the clean-freak and the slob ultimately decide to room together with hilarious results as The Odd Couple is born.



Brown Paper Tickets Ticket Widget Loading...

Click Here to visit the Brown Paper Tickets event page.
THE CAST

(in order of appearance)

Speed...  David DeLong

Murray... Arthur Paul

Roy...  Dan Guidice

Vinnie...  John Levine

Oscar Madison... Steve Caporiccio

Felix Unger...  Paul Janiga

Gwendolyn Pigeon...  Maureen Levine

Cecily Pigeon... Kathy DeLong

THE PRODUCTION STAFF

Director - John Muller

Assistant Director - Nancy Muller

Producer - Patti Kozerski

Stage Manager/Book Holder - Deanna Hess

Lighting Technician - Claude Warnick

Sound Technician - Craig Hess

Lighting Apprentice - Virginia Hartung

Head of House - Joanne Moran

Stage Crew - Terri Thompson & Kacie Smith

The Odd Couple premiered on Broadway at the Plymouth Theatre on March 10, 1965 and transferred to the Eugene O'Neill Theatre where it closed on July 2, 1967 after 964 performances and two previews. Directed by Mike Nichols, the cast starred Walter Matthau as Oscar Madison and Art Carney as Felix Ungar. The production gained Tony Awards for Walter Matthau, Best Actor (Play), Best Author (Play), Best Direction of a Play, and Best Scenic Design (Oliver Smith), and was nominated for Best Play.

ABOUT THE DIRECTOR

John Muller returns to directing at the Kent County Theatre Guild this season after the rousing success of Arthur Miller's All My Sons last season. A long time director, John has directed over 40 shows, including You Can't Take It With You, The Sound of Music, Peter Pan, Man of La Mancha, and Arsenic and Old Lace. This production of The Odd Couple will mark the third time he has directed this show. John is currently the Vice-Chair at the Kent County Theatre Guild and the Director of Theatre at Caesar Rodney High School.

1965 Tony Award Winner

Best Author of a Play

1965 Tony Award Nominee

Best Play

"[Simon's] skill is not only great but constantly growing...There is scarcely a moment that is not hilarious."

- The New York Times

"Fresh, richly hilarious and remarkably original. Wildly, irresistibly, incredibly and continuously funny."

- New York Daily News