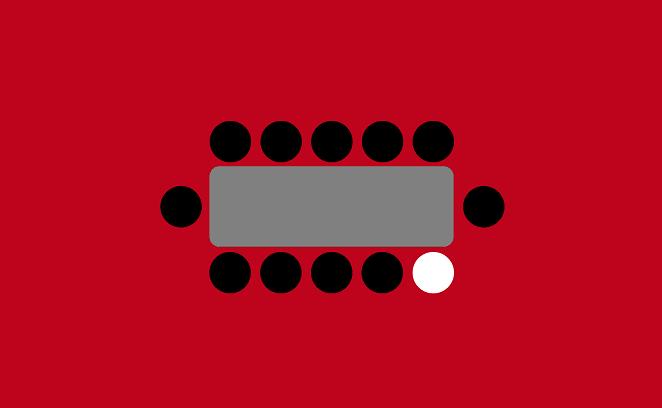 140 E. Roosevelt Ave. / PO Box 783 / Dover, DE 19903 / 302-674-3568 / email:
kctginfo@kctg.org

at the Patchwork Playhouse

Providing Quality Community Theatre

to Central Delaware Since 1953

Kent County Theatre Guild presents

Twelve Angry Men

written by Reginald Rose

adapted for the stage by Sherman L. Sergel

directed by Patti Gatto

Fri SEP 16 & Fri SEP 23 at 8:00p

Sat SEP 17 & Sat SEP 24 at 8:00p

Sun SEP 18 & Sun SEP 25 at 2:00p

THE CAST

Guard...   James Muzzy

Juror One...   Jeff Bellon

Juror Two...   Luke Siler

Juror Three...   Steve Caporiccio

Juror Four...   Kevin Smith

Juror Five...   Jose Bernard

Juror Six...   Larry Mola

Juror Seven...   Purcell Dye

Juror Eight...   Bruce Leister

Juror Nine...   Michael Forrest

Juror Ten...   Michael Polo

Juror Eleven...   Paul Janiga

Juror Twelve...   Art Paul

THE PRODUCTION TEAM

Director...   Patti Gatto

Assistant Director...   Terri Thompson

ABOUT THE SHOW...

A 19-year-old man has just stood trial for the fatal stabbing of his father. "He doesn't stand a chance," mutters the guard as the 12 jurors are taken into the bleak jury room. It looks like an open-and-shut case—until one of the jurors begins opening the others' eyes to the facts. "This is a remarkable thing about democracy," says the foreign-born juror, "that we are notified by mail to come down to this place—and decide on the guilt or innocence of a man; of a man we have not known before. We have nothing to gain or lose by our verdict. We should not make it a personal thing.

But personal it does become, with each juror revealing his or her own character as the various testimonies are re-examined, the murder is re-enacted and a new murder threat is born before their eyes! Tempers get short, arguments grow heated, and the jurors become 12 angry men.

The jurors' final verdict and how they reach it—in tense scenes that will electrify any audience and keep them on the edge of their seats—add up to a fine, mature piece of dramatic literature.