140 E. Roosevelt Ave. / PO Box 783 / Dover, DE 19903 / 302-674-3568 / email:
kctginfo@kctg.org

at the Patchwork Playhouse

Providing Quality Community Theatre

to Central Delaware Since 1953

Vanya and

Sonia and

Masha and

Spike

written by Christopher Durang

directed by Kevin Smith

Fri MAY 8 & Sat MAY 9 at 8:00p

Fri MAY 15 & Sat MAY 16 at 8:00p

Fri MAY 22 & Sat MAY 23 at 8:00p

Sunday Matinee MAY 17 at 2:00p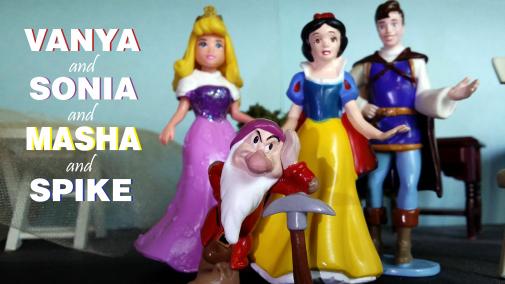 About the Show...

A comic play written by Christopher Durang, the story of Vanya and Sonia and Masha and Spike revolves around the relationships of three middle-aged single siblings, two of whom live together, and takes place during a visit by the third, Masha, who supports them. They discuss their lives and loves, argue, and Masha threatens to sell the house. Some of the show's elements were derived from works of Anton Chekhov, including several character names, the play's setting in a cherry orchard, and the theme of the possible loss of an ancestral home.

The play premiered at McCarter Theatre in Princeton, New Jersey in 2012, followed by an Off-Broadway production later the same year. It transferred to Broadway in 2013. The original McCarter, Off-Broadway, and Broadway casts included David Hyde Pierce, Kristine Nielsen, Sigourney Weaver, and Billy Magnussen.

Critics praised
Vanya and Sonia and Masha and Spike
as a humorous adaptation of Chekhov themes that doesn't require familiarity with Chekhov. The original Broadway production proved to be a commercial success. In 2013, it won the Tony Award for Best Play and the Drama Desk Award for Outstanding Play, among other awards. (Source:
Wikipedia
)
Reserved Seats:



$18 Adult


$16 Senior, Active Military, Full-time Student
THE CAST

Vanya...   Mike Polo

Sonia...   Terri Thompson

Masha...   Patti Gatto

Spike... Nick Potter

Nina...   Amy Bill

Cassandra...   Linda Smith

THE PRODUCTION TEAM

Director...   Kevin Smith

Producer...   Patti Kozerski

Lights...   Nancy Muller / Sound... John Muller